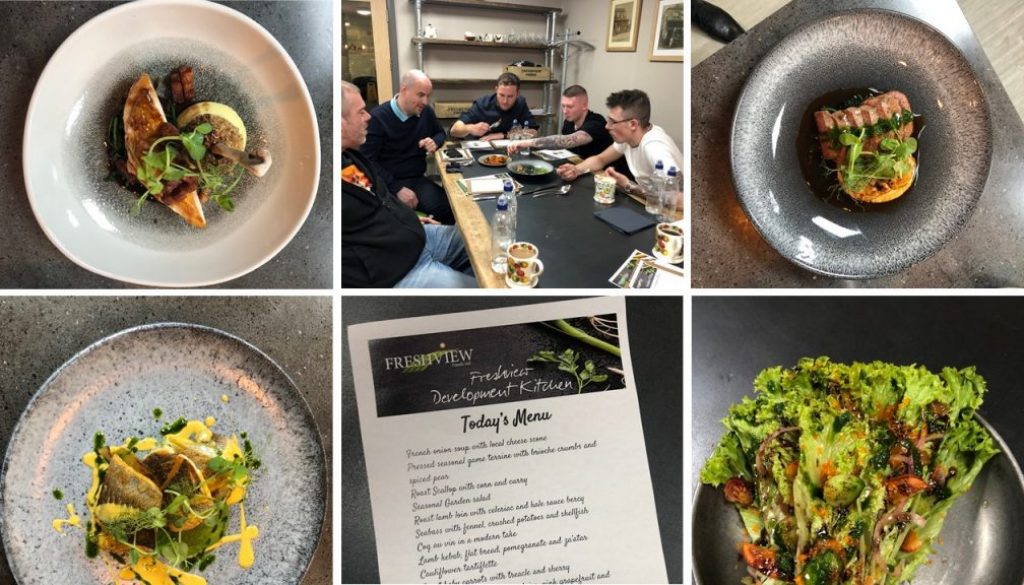 Busy chefs! Busy kitchens! Help is on hand!
Our development kitchen diary is always busy these days, as more and more of our customers join us and our development chef to share knowledge and their experiences with food.
Tasked recently with coming up with some autumnal menu ideas, chef got stuck in and we invited some of the guys from Upstairs At The Grill and Bar Lounge in Chester to join us for an afternoon of food. It proved to be another huge success, and chef really nailed the brief. We use these exercises to discuss food, new product arrivals, exciting vegan options, allergen awareness, cooking methods, share ideas, and never to coach or instruct chefs. The visits are becoming known as a knowledge exchange and in no way a training event in a kitchen.
Our development kitchen is open to all our customers, as is the expertise of our chef. We love getting involved and assisting whenever possible, remember chef spends much of his time on menu development and trialling new and exciting products we are always looking to add to our range of goods whilst many of you are extremely busy in your own kitchens cooking for your customers. Drawing on our own experiences, even the most accomplished chefs (including our development chef) benefit from sharing wisdom and ideas for inspiration.
Many of our customers are utilising both our development chef and our kitchen as a free resource, some returning on a regular basis for cook off's and to share ideas on the next new menus. If you would like to take advantage of our kitchen and development chef contact your account manager to arrange the appointment. Great food, innovative ideas, what's not to like?